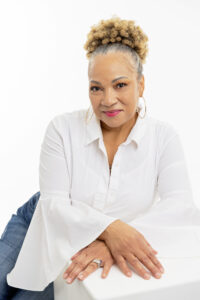 Wingz of Hope was birthed in 2005 to give hope to those who have been bullied, marginalized, ignored, overlooked, and feel hopeless. I am a woman of faith and a gifted encourager for those seeking wisdom and lasting change to go the distance in this life. I provide life-changing strategies and methods to produce lasting outcomes that help others become the best version of themselves. Implementing those practices is most effective through resolution vs. management.
I am passionate about life, living it to the fullest, and loving
others. This begins with my husband and partners in crime for over 36 years, 5 fantastic adult children I'm very proud of, and 6 grandchildren who own my heartstrings (and they know how to play them!). Spending time with family and friends fills my love tank. In addition to helping/serving others and watching them walk in their purpose, I enjoy entertaining and serving great food. Other passions are music, travel, sewing, reading, and soaking up the sunshine. Anywhere outdoors is my happy place!
I am an Associate Pastor at CrossWord Christian Church in Moreno Valley, CA, as well as a certified full-spectrum Doula (www.calisisdoulas.com), author of children's books, and an unashamed Believer in Jesus Christ.
NOTE: The views expressed here are solely mine, and should be regarded as such. My hope is that through the words on these pages, you find the encouragement you need to continue living according to who The Lord God says you are.
Professional Background
Licensed Minister, January 25, 2004 / CrossWord Christian Church
Certificate of Completion, "Caring For People God's Way" – American Association of Christian Counselors
2004
Coursework for B.A. in Biblical Studies / California Baptist University
Certified Labor Doula and Postpartum Doula / MaternityWise Institute, New York 2021
HIPPA Compliant / Certification of Completion 2022
Have a question or need encouragement? Let's chat. Use the form below and I'll respond as soon as possible. God Bless!