Each quarter, I will be featuring a new power woman – someone who inspires me. A woman who has touched and improved the lives of others in such a way that they will never be the same.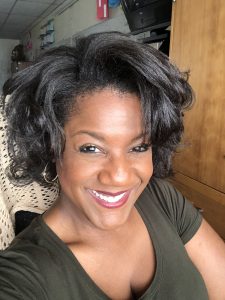 I recently had the opportunity to learn more fully the accomplishments, acknowledgments and passions of a woman I've known for a little over 32 years. It is my pleasure to introduce to some and present to others, none other than Dr. Janice Lynn Sykes a force in the educational field and committed member of the Delta Sigma Theta Sorority. I hope you are encouraged, strengthened and inspired by her story. Dr. Sykes is a woman you would want your daughters (and sons) to be around because she brings out the best in them, even when others cannot see what it is.
Here is a transcript of our conversation.
PK:  Tell me a little about yourself.
Dr. JLS: I am 48 years old and I am single. Every day I strive to live a life that pleases God and honors my parents. I am optimistic, energetic, confident, loving, nurturing, sacrificing, and trustworthy. I am also bold, brave, expressive, and transparent. I am an education specialist  and an educational consultant and I have been teaching children with special needs for 23 years. 
PK: Kudos to you for twenty-three years teaching special needs children! I had a tough time just teaching my own children. Your career must be demanding and intense, so tell us about your hobbies and how you spend your free time?  
Dr. JLS: My hobbies include acting, writing, reading, and traveling all over the world. I like spending my free time doing all of the above. I also like to spend my free time watching television, going to the movies, hanging out with my friends, and listening to all genres of music. 
PK: I know your first jobs were more focused on theater/acting. When did you decide to become an educator?
Dr. JLS: You're right, my background is entertainment. I've always been involved in theater and the performing arts. I was a television producer prior to leaving the entertainment industry. While I really loved my job working in television, I always felt that there was more that I could do to impact society. I have a servant's heart. Even in my youth, I was known as the person who was always fighting for the underdog and for people who couldn't or wouldn't speak up for themselves. My mother used to tell me that I should get paid for all the counseling that I gave my friends. I never considered being a teacher until I had a roommate who was a teacher.  She was very passionate about her chosen profession and she unknowingly inspired me to want to find my passion. I believe God absolutely wanted me to continue to fight for people who couldn't or wouldn't speak up for themselves just as I did when I was young. He led me to become a special education teacher. 
PK:  So, why special needs?
Dr. JLS: I was going to be a substitute teacher until I decided what to do with the rest of my life. I was called to a school district at the last minute and asked to serve as a substitute teacher for a middle school special education class. The principal of the school was new, so he didn't know that I was a substitute. He observed my class and spoke to me at the end of the day and told me that he had never seen anything so extraordinary. He told me he was very impressed by the way that I was able to create a fun and nurturing learning environment. He was surprised to find out that it was my very first day of teaching ever! He contacted the school district that day and asked them to hire me permanently and I have remained in special education ever since. 
PK: You've had a very successful career so far. Not only do you teach other educators, you also have attended training courses and attended conferences. With all of your success, what inspired you to pursue a Doctorate in Education?
Dr. JLS: I've always known that I was going to get my doctorate, but I didn't know that it would be in educational leadership with a concentration in educational psychology. I kept putting it off for many reasons and then I went to a sorority meeting. I am a member of Delta Sigma Theta Sorority, Incorporated. We are a public service organization established in 1913. I was inspired as I walked into a meeting and the room was full of strong, beautiful, intelligent women who were mothers, business owners, doctors, educators, lawyers, etc. Being surrounded by such greatness inspired me to stop putting it off. Shortly after that meeting, I enrolled in the doctoral program at the University of Southern California (USC). 
PK: What would you say to your younger self?
Dr. JLS: I would tell my younger self to always live an authentic life. I would tell her to enjoy everything that makes her unique and special. I would tell her to always listen to her gut and to follow her own bliss. I would tell her that she is fearfully and wonderfully made and that she should always stand tall with the knowledge that she was placed on this earth purposely and that her life is meaningful beyond her comprehension. 
PK: What do you say to young people as they plan to enter college or choose a career field?
Dr. JLS: I tell young people to live a life of integrity. I try to impress upon them that we are all connected and that we are all more alike than we are different. I tell them that what they do matters and that they should live by The Golden Rule: Do unto others as you would have them do unto you. 
PK: Any advice for parents?
Dr. JLS: I want parents to know that their kids will eventually appreciate them and what they do for their children if they are fair and fun, but also firm. I would also tell them that they need to give themselves a break and find time to replenish their souls. They can't keep pouring out everything they have to their children if they are depleted themselves. 
Thank you Dr. Sykes for being a trail blazer and sharing your gifts with everyone. The world is a better place because you are in it. I am a better woman and person because you are in my life. Keep shining bright for the world to see as you work to leave a living legacy through the lives of children many would have given up on.